We all know how much fun air hockey can be, and let's face it, the whole concept of the man cave is to have fun with your buddies. But a man cave also has to be practical. It's ok to have an idea about what sort of fun machines you can place in your man-kingdom, but you need to do a little research before jumping into making what could be quite a substantial purchase like an air hockey table. Some of these tables are heavy! 
The weight for an air hockey table can vary greatly. In general, the average weight of a small 48inch table is 38 pounds (17 kilos) all the way up to 385 pounds (175 kilos) for a 96inch table. The larger pro tables are much heavier because they are manufactured with better quality materials.
The extent of the room you have allocated for your Air Hockey table will make a huge difference on what size table you will need to buy. Air Hockey tables can range in weight from a mere 38 pounds to a heavy-ish 385 pounds, so you will need to understand what sort of weight the floor of your man cave can handle. Fortunately, unlike its heavier cousin the pool table, the Air Hockey table does not have the same problems associated with it when it comes to moving the table once you have bought it. 
Sizes vs Weight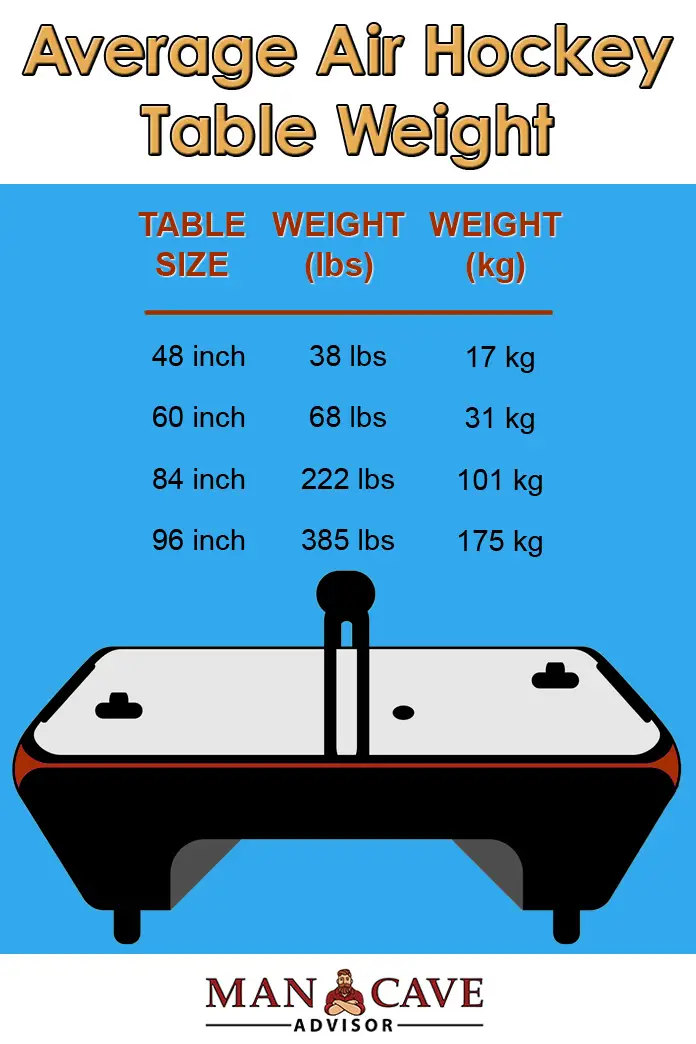 Air Hockey Tables weights (For All Sizes of Tables) are as follows:
48 inch table   38 Lbs. (17 Kilos)
60 inch table   68 Lbs. (31 Kilos)
84 inch table   222 Lbs. (101 Kilos)
96 inch table   385 Lbs. (175 Kilos)
As you can see, there is quite a lot of difference in the weight of the tables, once you go from the bottom of the range casual table to the more expensive pro-style models. The smaller 48 inch models are great if your man cave is a little tight for room, and of course they hardly weigh a thing, so moving them is not an issue, nor is the weight. If you are lucky enough to have a spacious man cave, then the larger 96 inch table is the way to go, especially if you are the local champion Air hockey player. 
The Table Size Is Your Choice!
The 48 inch tables are really just for fun, they are not very sturdy, but will certainly keep you and your friends amused for hours. Your kids are going to love this investment as well, try to keep them off once you have set the table up. A good example of this type of Air Hockey table is the AirZone Play 48 Air Hockey Table, this little beauty even comes with a built in LED Score indicator. Made from MDF and plastic, the table should last you for quite a few years of heavy traffic. 
Then at the other end of the scale you have the Atomic Avenger is a 96 inch monster that comes with all the bells and whistles that you will ever need. This masterpiece comes with four heavy duty "arcade size" puckers, inlaid LED scoreboard and soft-touch control pad that gives you command over the air, audio, timer and game re-set, so you have the best any pro will need to hold your very own Air Hockey tournaments with your select group of man cave friends and family. This unit is manufactured from plastic and MDF, so is an extremely sturdy piece of furniture. There are other tables on the market that are primarily made from laminates, but they do come at a higher price. 
It's Bought, Now What?
So now that you have made the decision to invest in an Air Hockey table you may need to look at the flooring that you have chosen for your man cave. Is the flooring made from a soft wood? Have you used a linoleum covering? Is it carpet over concrete? The weight of your new toy may have an adverse effect on your floor coverings, so when the time comes to choose the table that best suits your needs, make sure you look at the footings that come with the table. Are they flat adjustable feet? Do you need to use a protective cover for the feet? Will it be a simple case of using an adhesive to glue felt or some other soft material onto the feet to protect your floor surface? 
Most of the Air Hockey tables that are on the market will require assembly, so make sure that you are prepared for the construction process. Be sure to assemble your newest investment in the area that it is going to be used, there is no point in assembling a 200 pound plus table, then having to move it. This is only going to cause grief, and maybe floor damage. As with all man cave improvements, ask you buddies to come over to help in the process, this will lead to much-needed-male–bonding and probably beer drinking. Remember, your Air Hockey Table needs a power source, so this is going to be a no-brainer with its ultimate positioning. 
One other important variation on the Air Hockey tables that are available is the lighting of the table. Some tables a very well lit, so playing the game is a breeze whatever the light situation in your man cave, keep this in mind when you are looking at the different styles that you will be able to choose from. Some tables are lit over-head, while others are lit from the edges, play on the differing tables to see which lighting option best suits your playing style. 
Once you have your table, it is important to maintain it. The best way is to ask your wife if you can borrow the vacuum cleaner. This is the most effective way to clean the playing surface and to make sure that the air holes remain dust free and unclogged. If you want to wipe the surface down, use rubbing alcohol, definitely do not use soap as this will clog up those air holes that are vitally important to the enjoyment of the game. 
Final Thoughts
Air Hockey Tables are definitely a lot of fun to have in your man cave, and like other table games, you will have hours of fun using it with your family and friends. It can be a large investment for you, but ultimately, it will be well worth it. A little planning is all that it takes. Be sure to utilize the area that you have available without cluttering up your precious space. Like most man cave aficionados, you probably won't need the installation and assembly instructions, let's face it, all of your buddies will be there to guide you through the process, but just in case, it may be a good idea to keep them somewhere safe…….just in case. We have only looked at 2-Player Air Hockey Tables, 4-Player versions will be heavier again!