The basement… a space in your house that never gets used for anything except storage. Why not turn that space into a bar? A bar in your basement can be challenging but it can also bring that empty space to life for you and your buddies. Whether it's beers or whiskey, a bar alone can entertain all of your friends for hours.
This article covers all aspects of building a basement bar so by all means jump to the section that interests you. If you're in a hurry and just want some quick tips then read this article.
There are quite a few things you need to consider before taking the plunge to build a basement bar, so let's get to it!
1. Why Do You Need a Bar in Your Basement?
For anyone that currently has an unfinished basement that serves as storage, gaming room, place to keep your kids that you wish would move out, etc. etc. achieving the dream of having your own basement bar can seem like a far-a-way place. A place so far away that it might not be worth going to. I can't convince you to start planning your bar in this article, but I thought I could give you a better understanding of what makes building and your very own bar in your basement bar so rewarding. 
When you break it down, a basement bar is just your own place to hang out. There is no stopping you from making it into a complete man cave, with a pool table, dartboard and sofas. It can be personalized however you want, which is handy when you need to convince your significant other that it's worth the investment.
Some people with a family feel like they don't have a place that is their own. The kids have a playroom, the wife has everywhere that's not the bbq, and the husband is sometimes unintentionally left out. A basement bar is perfect solution for that feeling.  Having a place to retreat to after a long day at work… priceless!
The whole brainstorming, planning and building process can be a huge part of the fun of having your own basement bar. The best memories come during the journey, not at the end of the quest. 9-5 goes by a lot faster when you know you have a fun weekend of choosing square stools or round stools. Going to Home Depot to check out bar materials. It becomes a project. A fun project.
Single guys can share this journey with their friends, and it can become a family project for people with families. As in the case with most of the DIY projects on Reddit, most people don't do it alone. No matter what option you take you're going to need help from your friends, and having the most important people in your life helping you make your vision a reality is really special.
Now these reasons are all great but I know someone you are wondering about the dollar signs aspect of this. To be sure a basement bar is NOT cheap. But on the bright side, sprucing up your unfinished basement adds real value to your home. While you're not going to get rich this is another good reason to make that basement into a bar.
The last reason is that your basement bar can be an ever evolving extension of your personality for as long as you want it to be. It's your space so you can turn it into anything you want.
Hopefully some of these insights have you at least thinking more seriously about planning your own basement bar. 
2. Choosing a Layout
Let's be honest, this is not going to be an easy project. There will be decisions to be made, money to be spent, work to be done, and many nights after a long day at work where you just won't feel like doing this. The best thing to do is break up the whole project into smaller parts for a more digestible attack plan. So, where do we start then? That's easy… the floor plan.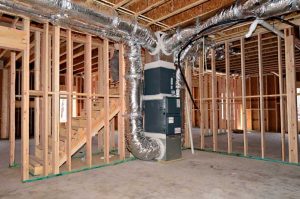 A good floor plan is both dictated by the shape of the room and influenced by your own ideas of what you want in your bar. This is especially important because we all know we want to drink at our bar, that part is easy. But what do you want to achieve with your bar? Maybe I'm getting a little existential here, but you have to think in this way to really get a good layout.
Think of things like:
What will be your primary activity? Watching sports, playing cards, entertaining your friends?
Are you going to entertain a lot of people in your bar?
What kind of interaction will you have with others?
How many TV's do you want/need?
What will be your primary role at the bar?
What else is in your basement that you might engage in? Pool table, arcade games, foosball, air hockey?
Do you need space for a dedicated beer fridge or kegerator?
Write down an "answer list" to some of these questions. Don't worry, this isn't a one word answer! You can put as many as you want. After you do that, now you can start thinking about the layout more than just a bar that "looks cool". Now you can think of the layout that serves a purpose.
1. Traditional Bar
Do you want to have your bar be traditional? Then the layout should be a "U"-Shape. Users can sit on stools on the outside, facing the liquor rack. A TV could be placed in the corner or above the liquor.
Will your bar exist to serve people who are engaging in other activities? If you and your boys want to be playing the latest Madden on the couch while chugging brews, your bar should be a single counter against the wall. That way anyone can walk up and get what they need in between plays. A good place to put this bar would be in a niche.
2. Game Room Bar
The bar with a bartender: This is the type of bar where you are throwing some awesome parties and you hire a guy to whip up sweet concoctions and open up brews for your guests. If you utilize a pass-thru in the wall, you can really make it feel like your guests are walking up to an authentic bar.
3. Pass-Thru Bar
If you are fortunate enough to have a very large basement and different types of activities around the room, then a center-room bar might be in order. This way you can walk up to it from any direction. Hang 2 TVs back-to-back from the ceiling for extra effect.
4. Center Room Bar
The layout of your bar actually is very important to how the room is going to be used. Function is very important in ensuring your guests have a good time. Think of the "flow" of the room and how people will interact in it, and then you can start to narrow down the layout of your bar. Get to work!
3. Choosing a Theme
People often say: Isn't a bar just a chair and a place to put a drink while you're not consuming it? The answer is always…. yes. But there is a whole other dimension out there! An awesome theme can take your basement bar from being a place to drink, to a place to drink with an awesome theme. Here are a few examples…
1. Sports Bar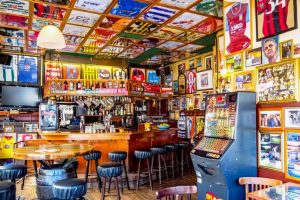 Sports bars have always been popular as it's a central place to hang out and watch your favorite team play while having a drink. But to have a sports bar theme you'll need a lot of sports memorabilia. The essentials include appropriate stools, and of course a kick arse 4k TV.
2. Pub Bar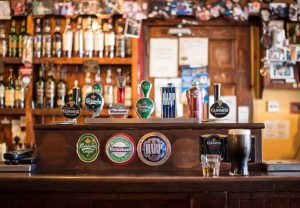 Nothing makes a bar more inviting than the pub atmosphere. Where wood panels are "a plenty" on the walls and there is more industrial steel around the room than the local steel factory. A pub bar and man cave are a perfect match so be sure to add the man cave essentials, like pool table, dartboard, foosball. After all, your buddies need something to do when they are not drinking and watching sport. 
3. Modern Bar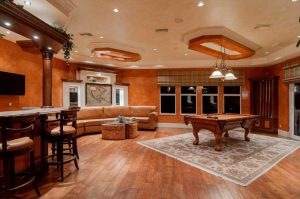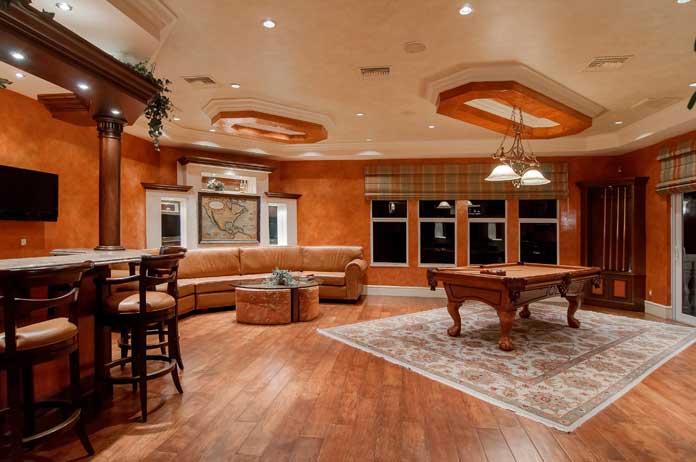 If you like things more Jetsons than Flintstones, more square than rounded off, more facebook than myspace, a modern bar is perfect for you. No stools, only chairs need apply. Color is everything in these bars, and consequently females seem to enjoy this type of bar the most of any other type. If your basement just happens to be the bottom floor of your bachelor pad or you live in your mom's basement which is also your bachelor pad (good luck kid), this type of bar is for you. The essentials include Mood Lighting, a piece of artwork or two (cheap of course, she'll never know) and this just looks cool. 
4. Gaming/Geek
With sites like Think Geek and This Is Why I'm Broke providing an endless supply of nostalgic gems, why not have a place to drink amongst those useless pieces of plastic? The reason I really like this theme is it's so easy to fully customize to you. Game of Thrones Fan? You'll need a Game of Thrones Dart Board. Still yearning to finish the Fight Halo Fans? Throw up a few energy swords in between the liquor bottles and awe your friends. What that's you say? You've always wanted a bar with multiple consoles set up? Now you're talking my language. There are no essentials to this kind of bar, because it' s all up to personal choice, but I think it's as close as it gets to essential.
4. How much will it cost?
The question that everyone hates but has to be answered. Every aspect of a basement bar can be customized so there isn't a set cost. Flooring is a monster all in itself. Ceiling tiles? Cheap, but it's just one more thing. So, where do we begin to answer this question?
To get to the bottom of this, we need to dig deep. Deep into the psychological realm. How much will this cost, you ask? How much do you actually need? Versus, of course, how much do you want? We are all grown adults (even though some of us don't act that way) and we know how to balance things we want vs. things we need. Especially when the majority of us have a limited budget.
Ask yourself this question before we go any further: Do I want this all done at once, or should I build it up over time? The answer to this question will greatly affect how you approach the subject.
While we believe you need a good plan (and why else are you reading this article?) we are also advocates of starting sooner rather than later. Force yourself to get the project done. And therein is the answer. Do you need this done now, or do you need it operable now, and built by pieces over time? If the answer is the latter, you can start small, and therefore start cheap. You can buy the bar, put on some inexpensive tops, and whoola! You have a bar where you can serve some drinks. We estimate this approach will cost you anywhere from $400-$2,000 to start. Put off buying that new lawnmower you want and you'll be good to go. And as time goes on, add that bar tap, or that sweet new TV you want.
If the answer is "you want it all done now", then you have a bigger problem on your hands. The limit of your imagination is checked only by the realities of your budget. If you want something like the DIY basement bar in this interview, you are probably going to spend around $2,000-$10,000.
As a general rule, the magic number for a basement bar build from start to finish is around $20,000
If you are careful and plan accordingly, you can spend less and you are a happy man. If you budget for the big 20k, then you will have more than enough money to build the bar of your dreams. It's also a nice round number that most of us can wrap our heads around. And most importantly, find the money for. Time to start taking out a loan! Or stealing from your kids' college fund. Just don't let your wife catch you….
1. Basement Bar Furniture
3 items, and 3 items only make a bar…
That's it!
These are your priority. Everything else is an accessory.
The following covers the three pieces of furniture and some points to think about before purchase…and remember, no couches ever.
Stools
The first big choice with stools is height. 30″ or 24″? Since most bars are around 40″, a 30″ stool is the perfect choice. However if you have NO choice but to have a table instead of a bar, usually the 24″ stool is a better fit. Please try to avoid them at all costs. You want to drink at a bar, not a picnic table. There is something special about that small jump up to sit on a basement bar. It makes me feel right at home.
As for material, Stools need to be sturdy and made to get drinks spilled on them, since you know it's going to happen. This means wood and metal is good, leather is used at your own risk. 
Refrigerator
Some people think these aren't a necessary piece of bar furniture when building their own basement bar. But we absolutely disagree. You don't want to have to walk all the way upstairs for your next round. That ruins the experience. It's much more rewarding to lean over, open up your icy treasure chest, and satisfy your cravings in seconds. As for options, it's basically black, white or stainless, standard size or mini/undercounter. As for color, try to stick with black, only because you want to differentiate your bar from your kitchen as much as possible. But that's really up to you. The decision most people fret over is the size of the fridge. It really depends on your budget, but I'll make it as simple as I can. If you want to party, choose this (freezer for the liquor). If you want to party, choose this (sorry liquor bottles). There is such a thing as too big of a fridge, so keep that in mind. Having to shimmy past the beer fridge to adjust the volume on the game is a no-no.
Bar
The bar is, of course, the main event, apart from the alcohol. I recommend the diy route. Reddit has heaps of examples of people that have built their own bar at a deep discount when compared to purchasing. Get your friends if you need help. Height, Sturdiness, and Color are the deciding factors for your bar. If you are going to spend the money, do it on permanent fixtures like a bar. While things like fridges aren't items you want to replace too often, the bar is a permanent fixture and won't be replaced for a long time.
2. Basement Bar Cabinet
Bar cabinets, or "back bars" are a nice addition to any home drinking establishment that has the space. Putting everything on display is a cool way to swag up the place, having a place to protect your beer steins in case of an earthquake or surprise mother in law visit is definitely a luxury I enjoy. In this article we will outline some sweet cabinets for your basement bar that won't break the bank and also some alternatives if your bar just doesn't have the space, or your budget (wife) doesn't just doesn't allow for it.
There are basically three types of cabinets: ground level, attached to the wall, and the best of both worlds
First let's cover the ground level.
Ground Level Bar Cabinet
Ground level cabinets have many uses. Glass holders, bottle storage, extra bar space, etc. etc. And also not cost an arm and a leg in the process. For those reasons this is basically the best ground level cabinet of all time. Think about the types of drinks you will be serving, what sort of glassware and accessories you will use. Will there be room for that 85″ TV behind the bar?
Hanging Bar Cabinet
If you have the space and the know-how, hanging cabinets are definitely the way to go and will look great when in place. They add that necessary touch of professionalism to any basement bar. Yes we are there to drink, but it's also a place of pride we want to show off to guests. Number of features is again important, but it also makes the price much more. Don't be afraid of just getting a simple cabinet to save on pennies, but gain on ambiance. If you don't need a lot of space then a simple hanging bar rack may store enough.
Combination Bar Cabinet
A combination cabinet has the best of both worlds. These cabinets take up space and money, so having a lot of features is an absolute must. I want a place to put my beer glasses, beer glasses, towels, wine/liquor bottles, you get the point. Feast your eyes…. Although often found in a living room, it is also the perfect basement bar cabinet. Remember a cabinet is an important piece of your epic basement bar, so choose it carefully.
3. Best Materials to Make that Bar Rock
Just like your kitchen (which we know you remodeled before you even got to finishing your basement) the countertop material becomes a huge decision because it finishes off your bar with the right tone. There are basically three kinds of materials you should consider. 
Natural/Engineered Stone

Wood

Stainless Steel
These days, stone comes in many forms. From solid granite or marble, to engineered stone made as a composite of many materials. Years ago, engineered stone was very poor quality and really looked out of place and unnatural. Today however, engineered stone looks almost as good as natural stone but at a fraction of the price. As you know, we love that versatility (it's a recurring theme in our designs). As we've mentioned in other articles, you will probably gravitate towards darker colors on your bar, so be sure to check what's available. These countertops are always made to order, so shop around. Prices and quality will vary.
Why wood? Simply put, it's a classic. The feel of wood and its natural properties are appreciated by anyone. The downside is wood can get expensive, more so than granite sometimes. It also gives off that classic pub theme feel that you may be going for.
What is stainless steel good for? It's clean, clean, clean, and easy to clean. Not to overstate, but it gives off a really clean look. Modern too. Potential downside? It scratches easily. Be prepared for it to look like the lower half of your refrigerator, thanks to your 3-year old. It's also extremely expensive.
Bottom line: Go for an engineered stone countertop for versatility or wood for sophistication.
Final Thoughts
Hopefully there are some ideas here that will help you build your basement bar. Doing your homework before jumping in and starting will definitely help. After all, it's your bar, so deck it out how you want it. If you have a low ceiling in your basement, you want to take some extra steps into your planning. Most basements will be affected by mold at some point so take measures when planning your basement bar to avoid this.
Good luck!