Table Tennis or Ping Pong has gained a resurgence in popularity in recent years. It's a game that just about everyone can play. Before you go lash out and buy a table, what room size do you need? What room size for pro players? What about for casual players? The answer is "it depends" but we can break down room sizes for different types of players.
Table Sizes
Table tennis tables are available in two sizes, Full Size and 3/4 Size. As 3/4 Size tables are very rare and generally targeted at kids, we'll focus on standard full size tables.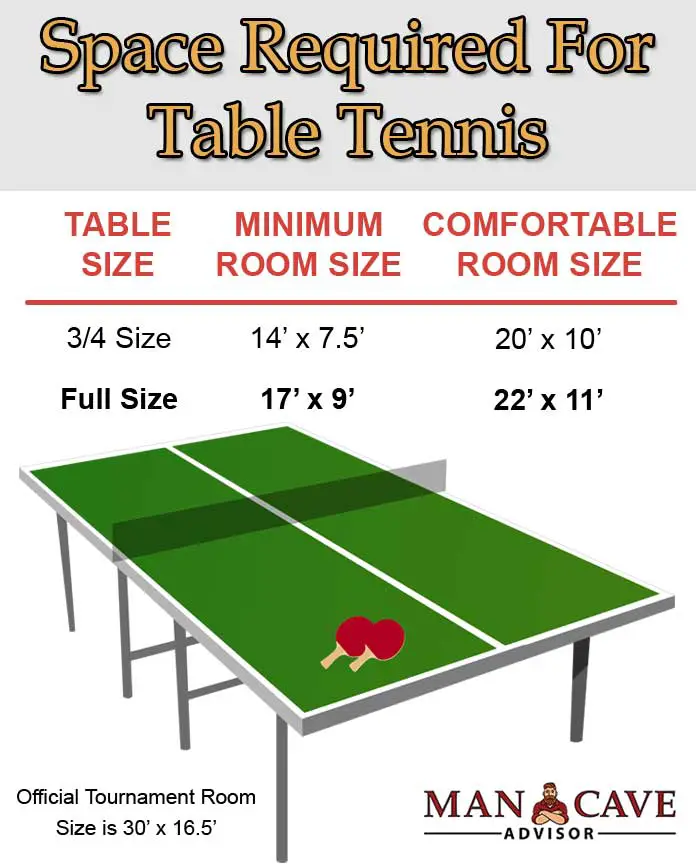 Table Size
Minimum Area Required
Comfortable Area Required
Tournament Area Required
3/4 Size

(6.75′ x 3.75′)

14′ x 7.5′

(427cm x 229cm)

20′ x 10′

(610cm x 305cm)

Not played
Full Size

(9′ x 5′)

17′ x 9′

(518cm x 274cm)

22′ x 11′

(671cm x 335cm)

30′ x 16.5′

(900cm x 500cm)
Full Size Table
A Full Size Table Tennis Table measures 9' x 5' (274cm x 152cm). According to the International Table Tennis Federation (ITTF), the room size required is 22' x 11'. This also depends on how aggressively you play. A comfortable room size for this size table is 22' x 11'. Some players may need a room size greater than this but generally, 22' x 11' will suit most casual players.
How much space you need for Table Tennis depends on how aggressively you play
The largest room size requirement for table tennis is 46' x 23'. This size is used for World Championships and the Olympics.
3/4 Size Table
A 3/4 Size Table Tennis Table measures 6.75' x 3.75' (205cm x 114cm). There is no set rule on the room size for this table. We recommend you have at least 
What if my available space is not that big?
If you find that your room size is not as big as the sizes listed above, think about how often you will be playing ping pong and how seriously you will be playing. If you only plan on playing casually then you could get away with the minimum area required. Remember that most table tennis tables will fold away when not in use.
If you plan on also buying a pool table or air hockey table then why not look at a combination table? These are designed to re-purpose the same space. Clever!
Final Thoughts
Table tennis tables can be moved around so you shouldn't just think about setting it up in one room. If you only have a small space then your friends will just make it work. After all, the restrictions from a small space will be there for both players. For the casual player (which most of us are), the minimum space required will be adequate for play so game on!