Buying a pinball machine is a big investment. Not only are they expensive, they also must be maintained properly to keep them in working order. There are many reasons why man cave owner's will choose a certain pinball. These reasons can be playability, aesthetics or even for investment purposes.
A pinball is also a reflection of your personality, it's something you want to be proud of. Usually, a buyer has played a particular machine a few times before buying it.
And what pinball machine should every man cave have?  It's The Addams Family!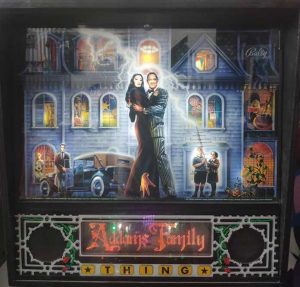 Of course this article is my own opinion, but let me present some pretty compelling reasons why you should buy The Addams Family pinball for your man cave:
Background
The Addams Family pinball was released in March 1992 by Midway (Bally), it quickly became popular because of the successful movie release a year earlier. In 1994, The Addams Family pinball was put back into production with a special "Gold Edition". The game sold a record breaking 20,270 units, to surpass the previous record held by Bally's Eight Ball which sold 20,230 units. Eight Ball surprisingly had held the record since 1977.
Assessing the quality of any pinball can be broken down into Playability, Aesthetics and Investment.
Playability
The Addams Family features voices from the movie, a four flipper layout and an animatronic hand ("The Thing") with a built-in magnet that grabs and stores pinballs for multiball. 
A computer controller flipper was also a nice addition. The machine would use AI to learn how to shoot a tricky cross playfield shot.
"The Power" adds a real randomness to the game where a set of spinning magnets under the playfield alter the path of the ball
Aesthetics
Design
The design of The Addams Family pinball is a real standout. Pat Lawlor and Larry DeMar were in charge of this masterpiece. They captured the real essence of the movie, from "The Thing" multiball to "The Mamushka" gameplay. All completely unique and tie in with the movie.
Artwork
The Art was created by John Youssi who also created the artwork for a whole swag of pinballs including Medieval Madness, Star Trek and The Twilight Zone.
Sound
The Sound was created by Chris Granner who has been in charge of sound for over 40 other best selling pinballs like Indiana Jones, Terminator 2, Funhouse and The Twilight Zone. There are many unforgettable sound snippets from the movie that really enhanced the game play. 
That's the Spirit Thing… Lend a Hand
Is still ingrained in my head to this day.
Investment
The Addams Family pinball is the highest selling pinball of all time (Over 20,000 units have been sold) and because of the demise of Arcades in the 90's and 2000's, there isn't the same demand for buyers as there once was. 
Because of this, it is "extremely" unlikely (you could say almost impossible) that this best seller will EVER be replaced. It's for this reason alone that The Addams Family will keep appreciating over time. 
Combined with the fact that this pinball has such outstanding playability, artwork and sound, the records that it holds all add up to a great investment.
Like any pinball, proper care and maintenance needs to be done in order to preserve the pinball's value.
Modifications
Because of the success of the pinball, aftermarket modifications are very popular. From replacing the dot matrix display (DMD) with a full color DMD to simple LED bulb replacements.
Other Notable Pinballs
1. Indiana Jones: The Pinball Adventure
Many would argue that this pinball should be present in every man cave instead of The Addams Family. Even though fewer units were sold (12,716) compared to other pinballs like Terminator 2, it's playability seems to translate well, even today.
2. Terminator 2: Judgement Day
One of the most successful pinballs by Williams, Terminator 2: Judgment Day was the first pinball to feature a swing-out cannon, fired by the player. It sold over 15,000 units and is still one of the most popular pinballs today.
3. Medieval Madness
Although sales of this pinball are low (4,016) compared to others listed here, it's cult following has made it an instant success. And to be honest, it's a good looking pinball that definitely wouldn't look out of place in any man cave.
4. Twilight Zone
Twilight Zone is a favorite, even today. With five possible multiball modes, it's a very entertaining pinball to play. The twilight zone brand will also live on for a long time, preserving it's investment value.
5. Star Trek: The Next Generation
If you are a trekkie then this pinball is a must for your man cave. With heaps of voice snippets from the TV show, it'll keep every Star Trek fan happy.
Final Thoughts
The Addams Family pinball is a Pat Lawlor masterpiece and is probably the best licensed pinball ever made. The audio, gameplay and toys all blend in so well with the Addams Family movie theme. The artwork is exceptional and really adds to the eye-catching appeal.
I've given you plenty of reasons to buy The Addams Family pinball, but do your research before buying a machine. Once you've got that bad boy in your man cave, all you need to do is master it.