If you are like most guys your first thoughts would be the uniqueness of your man cave. You might think about the games, gadgets, sound systems, and your bar might be on top of the list. However, one of the most important aspects about furnishing your man cave is sofas. After all, you want a fun space that is relaxing and a ratty old couch or uncomfortable old chairs that your wife has thrown out, simply won't do.
What to look for in a man cave sectional couch?
It needs all the features to relax while having enough room to accommodate a group of friends without feeling cramped. It should also be soft that you can lounge in comfort.
Why is a sectional couch the better option?
Typically, a sectional couch has between three to five separate pieces. What makes these ideal is that you can arrange it as you wish or as your space allows. The more pieces you have the more configuration options will be available to you.
What types of configurations do you get with a sectional couch?
While you can configure a sectional couch different ways, the common configurations include U-shaped and L-shaped.
L-Shaped Sectional Sofas
L-shaped typically has a side that is designed for lounging and a bit smaller. The long end can typically be positioned anywhere along the long side of the couch or can even be used as an ottoman.
U-Shaped Sectional Sofas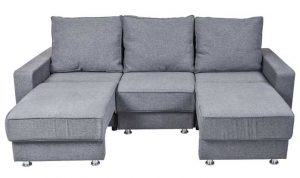 A U-shaped is great for gathering around a projection screen or TV and you can wrap the seats around an empty center. You also have another option which is a sectional couch with a built-in table and instead of the traditional L or U shape, you get a curved sectional couch.

Your man cave might have limited space, but you will definitely be able to fit this Divano Roma with its reversible Chaise. It is specifically designed for small space configuration. It will add a touch of sophistication and style if that is what your theme requires. Excellent low price!
Pros:
Small space configurable

Hardwood frame

Soft velvet

Two decorative pillows and overstuffed cushions for comfort

Variety of color

Dimensions of 29.5 depth x 77-inches wide and 34-inches high

Memory foam cushions

Wooden feet with felt at the bottom
Cons:
It could have six feet instead of four to make sure it has better support in the middle of the couch

In a dark blue this is sectional couch is great when you have space with a wide chaise lounge. It is an L-Shape with an ottoman as well. Use the ottoman as center table or as extra seating as you wish. 
Pros:
Durable and soft linen fabric that you can wipe down with a damp cloth

Cushioned ottoman

Loose back cushions

High-density foam in back and seat cushions

Dimensions of 108.2 wide x 32.3 high x 29.9-inches depth

ottoman and chaise lounge

cushions have Velcro to keep it in place and zippers to wash the covers
Cons:
The seating is not a soft as described but rather hard

This sectional couch from Honbay is one of our favorites for several reasons. Aside from being a space-saving sofa, will won't have any problems with sinking as this sectional couch provides firm, yet comfortable seating.
It's available in beige or dark grey fabric.
Pros:
Firm and comfortable

Convertible Sofa

Space-saving

Dimensions of 78.5 x 30.3 x 35-inches
Cons:
Not the biggest sofa on the market

Sofamania is the designer of this Modern Large U-Shape Sectional couch. It features a double extra-wide Chaise Lounge. It is in durable, soft velvet with loose pillows for a comfortable, plush look.
Pros: 
The sections can be separated

Twin chaise lounges

Chaise lounges are extra wide

Seats 8 people comfortably

Durable and plush memory foam

Modern chrome finish legs

A variety of modern colors available

Dimensions of 29 height x 130.5 wide x 52.2-inches depth
Cons:
If you are tall, the back might be a bit low

Iconic Home is the designers of the Da Vinci Man Cave Sectional Couch. It is incredibly stylish and elegant with tufted Silver trim and grey velvet and silver-tone metal Y-legs. You can choose to buy it as a right or left facing sectional sofa. It is available in grey or navy blue in a modern contemporary style. This design gives you tremendous aesthetic versatility and will suit any man cave style and décor.
Pros:
Rich hued button tufted velvet

Contrasting silver nail head trim

Dimensions of 66.5 x 34.2 x 30-inches

Left or right-sided chaise

Plush multi-density foam for soft yet supported comfort

Luxurious premium quality velvet

Three accent pillows included
Cons:

Another top choice is the Talia Conversation rounded sectional couch with built-in table. It is made from breathable foam and PU with 20% polyester and 80% cotton. It is ultra-modern with its attractive curved silhouette. The built-in table with a wooden top at the one end adds intrigue and space to place your drinks, etc. without the need of an additional side table.
Pros:
Attached cushions 

Pocket coil and spring base seating

Webbed back seat construction

Dimensions of 141 x 76 x 36-inches

Fashionable curved sectional silhouette
 Cons:
The white color might be impractical
Final Thoughts
The advantage you have with these Man Cave sectional couch options is that we included varied price ranges as well as consider the space you have available. While your planning should include all your favorite items do not neglect to include a sectional couch to your man cave to make it cozy and comfy. Once you've bought your sectional sofa, all you need are cushions to complete it.