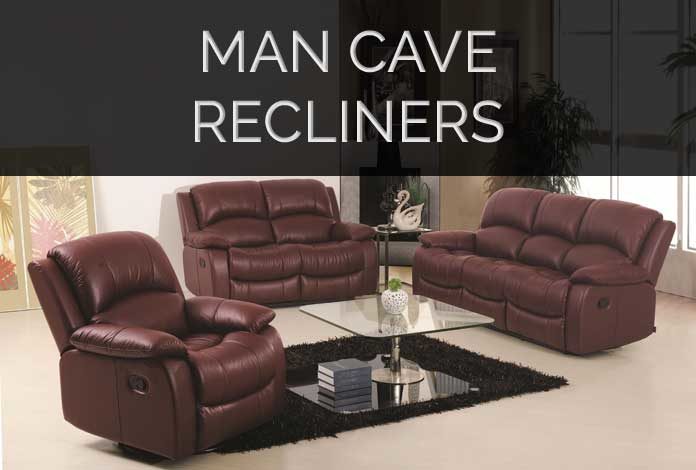 A man cave is really nothing if it's not comfortable. How are you supposed to enjoy watching sport or kickin' back with a beer and your buddies if you're sitting on something akin to one of those hard fold-out chairs they use in auditoriums? If you don't have plush seating and all the necessary accessories to turn the area into a spot that facilitates true relaxation, you really can't get the most out of being in there. A man cave recliner will ensure you can park yourself somewhere soft and welcoming every time you want to kick your feet up.
While trying to find that perfect couch for your cave, keep a few things in mind:
Comfort is the number one priority (even more than appearance)

Make sure it's a size that fits your space

Make, model, and construction of the recliner

Color (Does it blend in with the other decor?)
First things first, decide what you desire:
A Single Seat (while you watch TV or work on your laptop)

Not a fan of TV, but you need a comfy and unconventional couch so that you can read effectively

Being the extrovert that you are, you need to have a 2-3 seater so that when your best friend visits, you both can watch Star Wars (Original Trilogy of course!)
With that decided, you may look for comfort coil seating with a comfy gel to sit and even lay down for long hours. Many couches have a dual motor comfort functions that allow the ottoman and back to move on a separate basis.
What's the Difference between Leather and PU Leather?
Manufacturers will often market a recliner as using either leather or PU leather, but what's the difference? PU leather is simply artificial leather. It was created to look and feel just like real leather but without using real animal skin. It does have a number of advantages over real leather (namely price) but generally, if your budget allows, you should try and buy real leather.
Another term that is commonly used is split leather. PU leather can be made in a number of ways but split leather refers to real leather that is combined with polyurethane.
What's the downside of PU Leather?
PU leather, although cheap usually will not last as long as real leather. The material is extremely pliable and will stretch over time. It won't smell like real leather, nor will it look just like real leather
To Power or Not to Power… that is the Question!
Electric Recliners
Electric recliners are great, at the press of a button you can be in your favorite position.
Pros:
Ease of use

Usually have more recline positions
Cons:
Motors do have a limited life (usually 10 years, always good to check the warranty)

Higher Cost

Finding somewhere to plug in (some models do have a battery)

Loss of power quite often means the chair won't function
Manual Recliners
Manual recliners (ie. non powered) can be quite strenuous on your legs and abdomen to push the leg rest down. After some practice you will learn that moving further forward on the chair will make it easier to push the leg rest down, but it will always take some effort.
Pros:
Lower Cost

Mechanical simplicity (No electrics so more reliable)

No need to find somewhere to plug in
Cons:
More difficult to operate recline function

Usually have fewer recline positions
With all of that in mind, we've assembled a list of couches that are not only man cave worthy, but will also keep you comfortable for those long tv/sport/movie/drinking sessions.
Affordable Recliners
These recliners offer value for money yet still have the comfort factor. By substituting real leather with polyurethane (quite often called PU leather), substantial savings can be made. PU is usually easy to clean and has excellent stain resistance. These recliners will often have a handle to recline the chair.

The Manual Padded Recliner Chair from Homall offers great value for money. It's an extremely comfortable chair and is available in 3 colors so it's bound to blend in with other furniture in your cave. If you need room for drinks and food then be sure to check out the Chairside End Table from Ashley Furniture.

Giantex Modern Leather Recliner Chair Pushback Single Padded Seating Chaise Couch Manual Reclining Living Room Furniture Home Theater Ergonomic Lounger Sofa Reclining Chair, Black (Style 4)
【Sturdy Steel Frame and Large Weight Capacity】This black single-person functional sofa is mainly composed of a steel frame, which uses a very strong and rugged steel to ensure the durability of the chair. It can withstand weight within 330 pounds.
【Adjustable Backrest and Footrest】You can control the lift of the back and foot by the push the button switch next to the chair. The angle of the backrest is ergonomic, and you won't feel uncomfortable and tired after you lie down, so you can really feel relaxed and have an ultra comforable relaxation.
【Waterproof and Stain Resistant Leather】The faux leather of this sofa is customized with a high-grade leather texture. It is not a cheap leather. Compared with other chairs, it is soft, comfortable tothe skin, not stuffy, not sticky, just like your own skin. It is waterproof and stain resistant, easy to clean, not easy to damaged, suitable for long-term home or office use.
The Giantex Modern PU Leather Recliner Chair is compact yet comfortable and is available in 6 different styles so there will be one to suit your man cave decor.

For a more contemporary look, the LCH Recliner ships with a matching Ottoman. Although made from PU Leather, it definitely has  Recliner Chair Set for Living Room/Bedroom
Power Recliners
Recline at the press of a button, how good is that? Although costing more than manual recliners, power recliners usually have more recliner positions to further improve the comfort factor.

Divano Roma Furniture REC17-PU Recliner, Black
Comfortable Leather lift chair: relax with an ease of a button using your very own plush remote controlled Black power Recliner. Plush backrest and headrest Cushions to make life easier. Enjoy lounging and resting your legs while watching your favorite TV shows or popcorn and a movie in your living room or home theater room. Powered by a silent-quiet German made Motor.
Set multiple backrest position: Our Recliners easily Reclines with the attached remote Control with little effort & designed to adjust to multiple seating positions using Control buttons settings to Recline and elevate. Elevates Seat Height from low to high depending on your comfort level. Also capable to be fully reclined to laying flat position for ultimate comfort
Side pockets functionality: Enjoy reading a book while resting, and easily store your magazine, newspaper or remotes or etc. With our cozy side holders to put all types of accessories in the compartment for max Comfortability. Make things tidy and clean using both pocket sides for storing things with ease
The Classic Recliner from Divano Roma Furniture is sleek, modern and durable recliner. Available in Black and Brown, this powered chair uses an ultra silent german motor and is supplied with a remote. 

Sometimes leather just doesn't fit in with your man cave decor, if so then the Lifestyle Power Recliner is about as premium as fabric recliners get. USB charging… I'm not sure why all recliner manufacturers don't put this feature in. In today's world, USB charging at your fingertips is a God send. If you have plenty of space, then this recliner will give you plenty of comfort.
Premium Recliners
If you are in the market for a couch with "extras" these recliners fit the bill. Some of these recliners include drinks/food holders, USB charging ports, battery power or heating.

The Relaxzen 60-701011M Massage Rocker Recliner packs plenty of features for a premium recliner. Heat, Dual USB Ports as well as massage motors. If you can see yourself planted in a chair for extended periods in your man cave then this recliner won't disappoint. It is important to note that the USB ports on this chair are 2A. This means you can charge your tablet or iPad while kickin' back.

Seatcraft Equinox - Home Theater Seating - Top Grain Leather - Power Recline - Powered Headrest and Lumbar Support - Arm Storage - USB Charging - Cup Holders - Single Recliner, Black
✅ THE FINEST MATERIAL: Painstakingly, hand-selected genuine top grain leather from the top 30% quality of hides, for the finest touch, look, and durability
✅ TOP-IN-CLASS COMFORT: Experience the dream-level of comfort like never before with the powered recline, adjustable powered headrest, adjustable powered lumbar support, and memory function all at your fingertips
✅ HOME THEATER SEATING: Enjoy the movie theater experience in your own home with convenient features such as the lighted cup holders and base, hidden in-arm storage compartments, built-in SoundShaker bass shakers in each chair, swivel tray table for each seat
Seatcraft have quite a name when it comes to recliners and home theater seating in general. Those years of experience means the Equinox Leather Power Recliner with Power Lumbar Support will be extremely comfortable. Adjustable Powered Headrests, and Built-In SoundShaker are features you don't normally see in too many recliners so this one will surely keep everyone in the cave happy.

Esright Massage Recliner Chair Heated PU Leather Ergonomic Lounge 360 Degree Swivel, 1 Chair, Black
【5 Relaxing Function】Relax in this wonderful recliner chair with vibrating, reclining, heating, 360° swivel, rocking features. Massage way is vibration.
【Thick Padded, Double Comfort】Soft and sturdy faux leather design suitable for intensive use, padded with extra thick sponge for back cushion and armrest.
【Elegant and Friendly Design】2 cup holders and extra storage bags to rest your drinks and hold magazines, good for taking a rest or watching TV, reading on bedroom, living room.
The Massage Recliner Chair from Esright packs a lot of features into a compact recliner. Although it's PU Leather, it still boasts heating, massaging and vibrating features as well providing 360 Degree Swivel. Depending on how your man cave is set up, this may be a very useful feature.
Conclusion
The market is filled with tons of man cave recliners that cater to specific needs. Be sure to choose a recliner with the features that "you" want. Before finalizing a specific item, don't overlook the finer details. Be sure that it blends in with other furniture in your man cave and always look for comfort above everything else.